Description
1805 Orville Chest
In The style of Orville Wright's Gerstner 41A tool chest
Dayton Ohio in the early 1900s was a hotbed of inventors and entrepreneurs. While Harry Gerstner was busy developing his first tool chests and founding H. Gerstner & Sons, the Wright brothers were inventing, building, and flying the world's first successful motor-operated airplane. In his later years, Orville Wright had his very own Gerstner 41A chest which held many of his favorite tools, and now resides at the Dayton History's Carillion Museum. It is in that spirit, and with a nod to Orville Wright, that we introduce our first historically inspired chest.
The key to a great period piece replica is in using as many of the original materials, staying true to the style, and maintaining the original purpose of the piece. Since many of our earliest chests are still operational and functional, it was a requirement that any replica we put our name on should meet the heirloom quality of the original.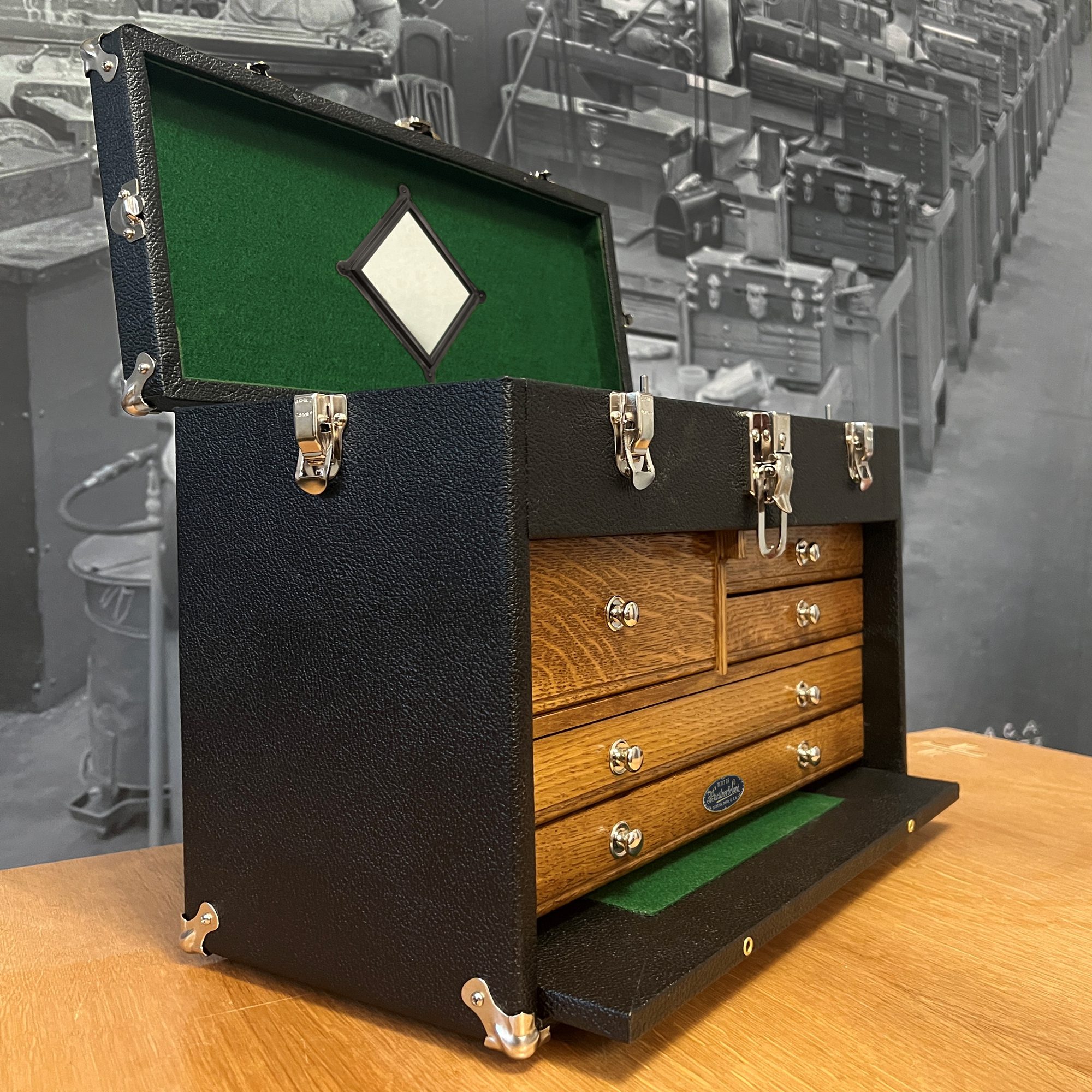 A Limited Run Chest inspired by Orville Wright's very own Gerstner 41A, which is on display at Dayton History's Carillion Museum.
Let's start with the leatherette covering. In the beginning, it was a way for wood chest manufacturers to dress up chests built with lower-grade wood, to hide imperfections and add style. But it also turned out that it wears well and was easy to clean, so it grew in popularity. For this replica we found a leatherette that is rugged and durable without being overly thick or easily creased.
The Hardware
Chests of the 1940's often had 4 latches instead of only the 2 front ones we see today. The side 2 were for added protection since the chests needed to be more portable than today's needs. So, we're going with 4 Gerstner branded latches – just like Orville's 41A. We've retooled our modern catch to match the Gerstner and Dayton-O stamps used on vintage designs. We've kept the hole spacing the same.
Another uniquely specific match to the original are the nickel backplates that sit behind the drawer knobs. They were originally used to help keep the drawer fronts clean from fingerprint patina – and for a bit of style. No copies this time since our backplate die machine that created the original parts had a fresh tune-up a few years back and is once again creating these.
We have developed a reproduction of the old-style leather handle and a label modeled off our original Art Nouveau designed foil label used in the 1940's and 50's. The new labels have been recreated from the original artwork in a more durable "die struck" method. One last nod to the past was to create a matte black-coated mirror frame.
Subtle Differences
While the goal was to match the original whenever possible, we've also opted to utilize some of the modern advancements we've made over our long history to make sure these chests perform up to current Gerstner standards. For instance, our sturdy surface mount stop hinge is designed to allow a top lid to open just over 90 degrees, which will keep the lid tilted back for stability. This means there is no need for the lid chain that some early styles had.
Additionally, while Orville's 41A has 7 thin drawers, we have opted to utilize the deeper drawers of the current 1805 Retro Chest. This versatility allows the chest to hold many different tools and collections. Sometimes less is more.
The biggest question came in selecting the front lock. Orville's 41A had a nickel lock from National Lock Co. in Rockford, IL, and we happen to have some of those original locks—but in black oxide.
Due to the color mismatch and the age of the original locks we have opted for our current style, which was an upgrade made in the 1970's. The nickel finish, stability and availability of this lock won out in the end.
Past that, the remaining standard materials, such as using white oak for the drawer fronts, green felt and nickel hardware were easy choices to make. We believe we've made a strong and authentic replica of Orville Wright's tool chest and are proud to offer it in this initial limited production run.
1805 Orville + Free 1600 DIY Kit + 1-year Owners Club
Order now through June 18th, and we'll including:
A FREE 1600 Tote Case DIY Kit (Golden Oak, Nickel hardware, Brown felt).
Plus a FREE 1-year membership in the Gerstner Owners Club.